Your 30-Day Plan to Increasing Engagement with Personal Video Shopping
Annie Clark
December 15, 2021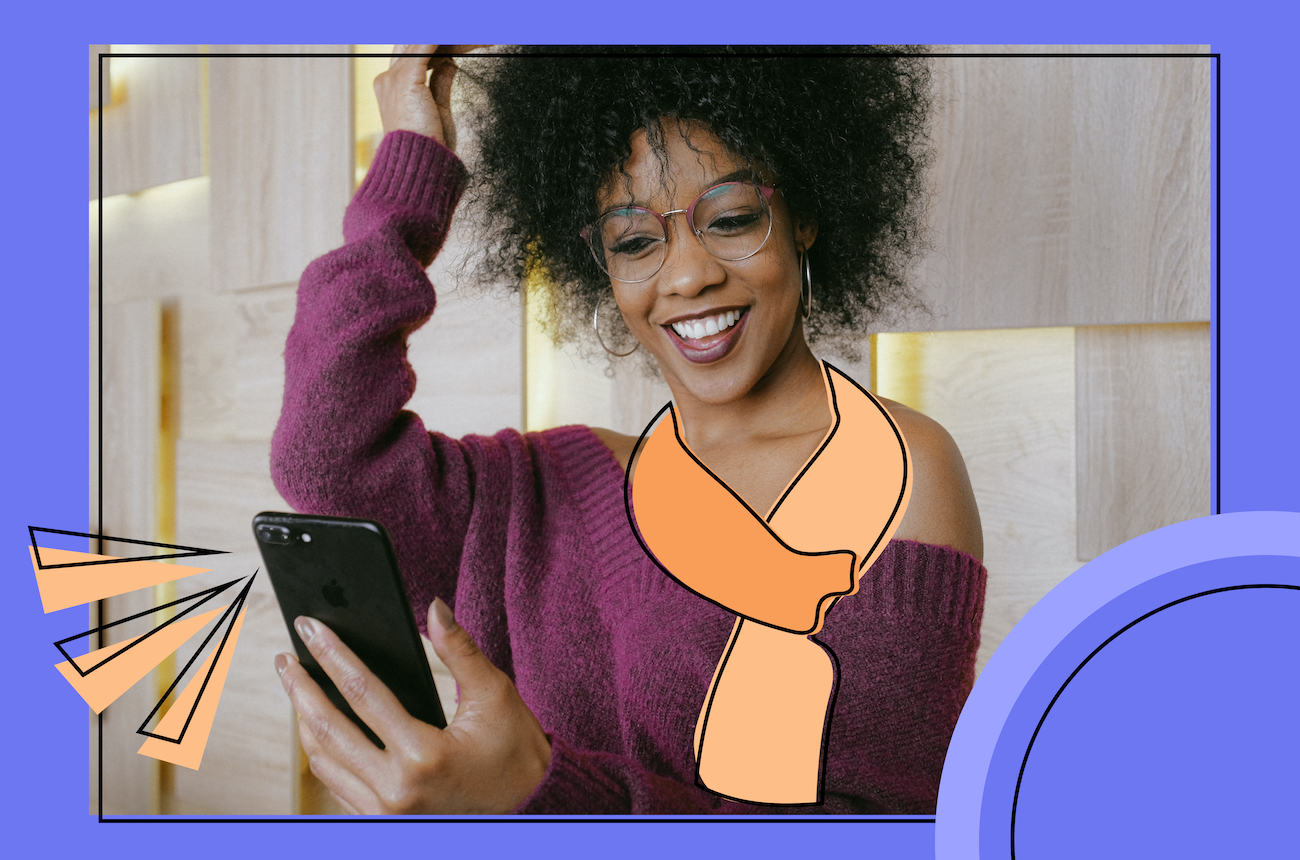 The shift to online shopping during the pandemic has altered the way customers engage with brands in a post-pandemic space. When consumers were left to rely on digital store fronts, businesses were forced to accelerate solutions to customize that experience. No longer were sales associates able to connect and understand a buyer's needs. Enter in personal video shopping. 
‍
Because personal video shopping is still up and coming, many merchants are continuing to navigate how to best utilize the channel to maximize their return. In today's digital landscape, customers are arriving at online stores ready to engage and convert. Boutiq enhances that experience with a personalized shopping experience that adds the element of human touch, reflective of a physical store.
‍
However exciting this new offering is, it isn't always obvious to customers meaning they need to be educated, reminded and inspired to book consultations. Being proactive and meeting them along their journey is a necessary step in inspiring them to interact in a meaningful way. We put together a playbook on how to increase personal video shopping engagement with Boutiq for their benefit, and yours – in 30 days.
1. Be Proactive (While Staying on Brand)
First, start by customizing your Boutiq app experience to match your brand and customer journey. While there are several ways to introduce your customers to this experience, there is no one size fits all approach. Here are different solutions to consider as stand alone efforts or, better yet, as complements to one another:

Widget
Start by installing the Boutiq widget. This feature lives at the bottom of all pages. Much like a customer service widget, which many customers have grown accustomed to the user experience, this widget exists to capture shoppers while they move from page to page in hopes they turn to it as a resource. With Boutiq, it's incredibly easy to use and requires no-code.
Landing Pages + Banners
Many Boutiq clients have found success in creating custom landing pages that not only introduce personal video shopping and what it is, but provide an overview on how to use it through video examples, while also hosting a CTA to schedule or make a personal video shopping call. Landing pages prove successful because they feel more exclusive than a widget. Making them easily accessible by linking from your site's menu can increase visibility and therefore usership. To create a landing page, Boutiq provides a simple template that can then be customized by the brand and its partners for cross-site cohesion. 
Homepages are a jumping off point for customers to navigate and hopefully convert. Where landing pages specifically push engagement, banners on homepage content can remind customers along their journey to schedule an appointment or start a call.
Product Pages
Boutiq focuses on meeting customers in their shopping journey. Adding another CTA or fold to product pages that prompts buyers to further engage with your product assortment by talking to an expert is a great way to convert them and increase AOV by upselling and cross-selling on the call.
Campaigns
Pop ups can be created for your site by setting up a Campaign in the back end of Boutiq. Execution is simple. Start by uploading an image with a quick description and CTA, as well as a timer to determine when you want the pop up to go live. This can be as soon as a customer is on a page, or customized into intervals. For example, if someone is shopping a product page but hasn't added to cart or moved in 30 seconds, you can create a pop up nudging them to schedule a video call to learn more. 
Invitations
For some of our customers, the most effective way to engage their customers is to proactively invite them to a personal shopping experience. Clients love to feel unique – if they are invited to a personal VIP experience they are more likely to engage. Invitations with Boutiq Call Links can be sent via personal clientele emails, newsletters, product announcements, social media and any other medium of communication. You can also experiment and target specific audiences for these VIP invitations - for example: top-spenders that haven't purchased for the last 90 days.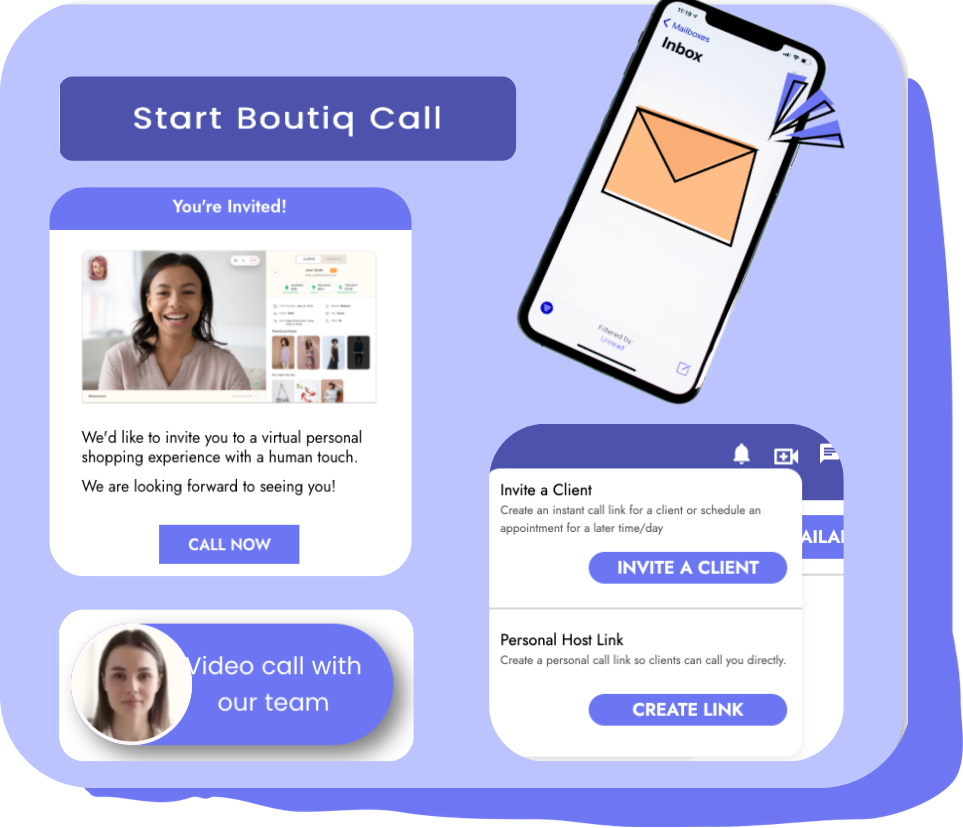 2. Educate for Engagement
For many online retailers personal video shopping is still being established and for many customers it's unclear what it entails. Introducing them to the ins and outs, the benefits and how to set up calls helps to put this new channel to use. 

One of the easiest and most effective ways to educate your clients is to create, upload and embed unique video stories that inspire customers to book their next session. These videos can live on landing pages, product pages, social media and more. Many of our customers embed (no code needed!) a video story in the Boutiq app itself, welcoming their customers and providing a brief intro on the service after they open the app. It can be as simple as the store owner, designer, or sales associate recording a personal message on their mobile phone. This glimpse into the experience removes questions or hesitations to booking their first consultation. 

Alternatively, you can invite clients to book their first consultation. Capitalize on existing relationships that your customers have with sales representatives. Encourage and train employees to reach out directly to customers for an exclusive look at the new personal video shopping experience.
"Clients love to feel unique - if they are invited to a personal VIP experience they are more likely to engage."
3. Refine and Repeat
Lastly, optimizing and advertising your investment will help to increase engagement. If no one knows you offer this amazing option, it's up to you to share it, and then share it more. In addition to Shopify, Boutiq integrates with Klaviyo (and other email marketing platforms) making further communication with your customers seamless. From introductions to personal video shopping and reminders to book appointments, to abandoned cart emails that recap the interactive showroom during a virtual consultation, you're able to reach customers at natural points of sale. Additionally, using existing platforms such as social media to introduce and reiterate the availability of personal video shopping is a great way to engage with customers and convert existing fans of the brand.

Personal video shopping is a new sales channel and as such works best when you continuously refine it - be proactive, repeat the message across all your communication mediums, do A/B testing on messaging, copy, and creative, reach out to your client proactively and repeatedly. With time, they will expect and rely on personal video shopping as an option to engage with your site. 
In Summary
The addition of Boutiq to your online store is a no brainer but increasing engagement and optimizing use isn't always self explanatory. When using Boutiq companies see increases of up to +50% conversion rates and 2x the AOV compared to their online store. So, if you're eager to experience growth through personal video shopping, be sure to prioritize increasing engagement through the ways we've outlined. The sum of these efforts will give you the foundation to make a massive difference to your personal video shopping engagement and in the long run, form lasting relationships with your customers and increase LTV.
‍
To learn more on how to increase engagement with your personal video shopping, book a Boutiq demo.
Back to the blogs page